Goldtec focuses on offering an array of solutions designed to harness the latest advancements in robotics and sensor technology. Our solutions have been deployed in a wide range of environments, and have applications in military, automotive, commercial logistics, among others. 
Explosive Ordinance Disposal (EOD) Robots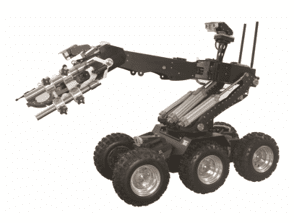 We provide medium-sized EOD robots that are robust, versatile, and capable of effectively performing a wide range of law enforcement, first responder, and military robotic functions. Its modular construction and advanced electronic design make maintenance and support in the field simple and inexpensive, improving the life cycle of the robot.
Goldtec further provides large-sized EOD robots that are tough, robust, versatile and proven. Our robots feature an intuitive portable controller, mission duration of 4+ hours, four independent firing circuits, as well as 13 I/O ports fitment and connectivity for third party equipment
Remotely Operated Vehicle Integrated Sensor Suite
The Remotely Operated Vehicle Integrated Sensor Suite​ is available for all of our robotics platforms and incorporates a fully integrated sensor suite that provides real-time data over an encrypted network. It features powerful capability to manage high-risk situations by concurrently deploying multiple sensors to detect hazardous CBRNe threats.
Unmanned Ground Vehicles (UGV)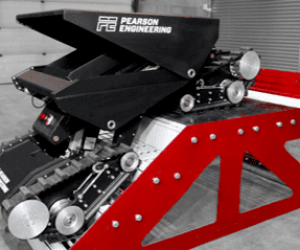 Goldtec markets multi-purpose, stair-climbing unmanned ground vehicles (UGV), capable of carrying payloads up to 250kg up and down stairs, over obstacles and over uneven surfaces. Automatic track articulation and payload leveling ensure stability throughout ascent and descent of stairs with minimal operator burden. Variable machine length enables the negotiation of tight indoor spaces and square landings.
Demining and EOD Operations Vehicle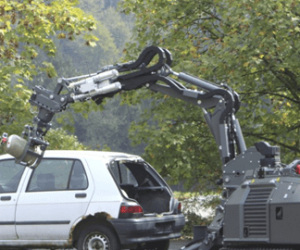 Goldtec offers light and rugged vehicles for demining and heavy-duty EOD operations.  The MW50 is a remotely controlled platform that is designed for landmine, IED, and route clearance in rugged, hard to access environments. It is compact and easy to maneuver and it can be transported on a 4×4 pick-up for maximum mobility. Based on proven technology with a selection of detachable tools, it is a robust and versatile tool for the most demanding conditions.