Goldtec offers lifting systems that are modular in design, enabling us to offer our clients fully customizable and cost-effective solutions. Our containers offer a carrying capacity of up to 20ft and lifting heights from 500mm to 1,750mm with greater heights upon request. Innovative inclinometer-based position control are a unique feature of our lifting systems, as well as patented technology which enables lifting and lowering action parallel to the ground during loading operations in uneven terrain. Each lifting system is subjected to functional and load tests, ensuring safety and maximum performance.
In addition to our standard lifting system products, we offer customized designs, including:
Non-standard lifting heights
Modified basic carrying capacity
Specially adapted mounting and interlocking systems
Special base plates
Holding fixtures for easy lifting support transportation
Tailor-made solutions with regard to functionality and intended uses
Advice and assistance to customers implementing specific projects
Special colors and paint coats
Expertise and expedient performance when it comes to tests, trials and provision of sample
Rolling Container Lifting Systems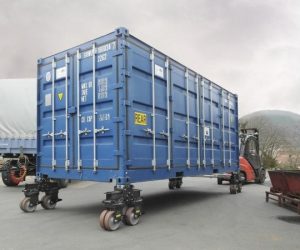 The container roller movement set can be used for maneuvering containers on paved ground. The attachment of the rollers may be affected from below into the ISO-corners, the side pockets of the ISO-corners remaining free for other purposes.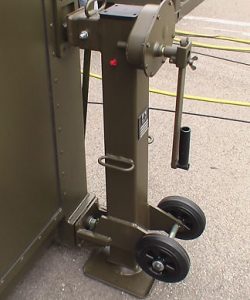 Leveling supports for a maximum lifting height of 800mm and maximum system carrying capacities up to 25ft (dynamic) and 25ft (static). Leveling supports are used on containers that require precise alignment on the ground so that they can be linked up to form larger functional units (e.g., mobile hospitals, encampments).
Lifting devices are suitable for lifting containers off the truck and depositing them on the ground without the help of cranes. Our lifting systems are modular in design so that low-cost solutions are available for your specific requirements. A lifting system consists of four lifting supports, with the carrying capacity of individual lifting support amounting to half of the carrying capacity of the lifting systems as a whole.
Lifting, rolling, and landing systems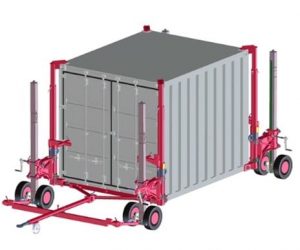 Lifting, rolling, and landing systems are suitable for depositing containers and shelters without the help of vehicle cranes and to move them. Additionally, our Container support devices are designed for the intermediate storage of containers on loading height.