Goldtec offers high quality and cutting-edge automotive products and solutions for military and commercial purposes. We provide a line of wheels for armored vehicles as well as CTIS and RUNFLAT systems designed to address flat or damaged tires and optimize tire pressure in all conditions and terrains. Goldtec employs innovative technologies to ensure the best protection and performance capabilities both on and off-road. Goldtec further provides systems that are capable of adjusting tire pressure to optimize mobility in various terrains and conditions. 
We provide RUNFLAT Systems, which acts as an insert for deflated tires, enabling the vehicle to continue its journey in the event of an ambush or natural puncture. In accordance with international standards (FINABEL and USA standard) the run-flat insert is operational for up to 50 – 100km driving distance. During normal driving conditions while the tire is fully inflated, the RUNFLAT insert has no effect on the performance or handling of the vehicle.
Goldtec's line of products includes:
RUNFLAT system: Single-piece wheel dynamic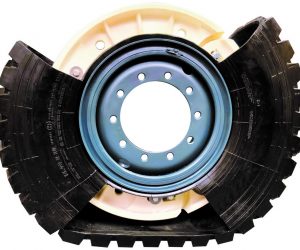 The single-piece wheel dynamic RUNFLAT system is designed to fit any single-piece wheel, compatible with most cars, SUVs, trucks and trailers. The contains two to three anti-ballistic missile composite segments bolted around the wheel rim, which remain fixed on the rim when the tire is fully inflated. When the tired becomes deflated, the system slips anticlockwise to the forward rotation of the tire and wheel, enabling the vehicle to run smoothly up to 100km.
RUNFLAT System: Multiple-piece Bead Lock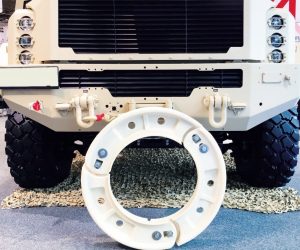 The Bead Lock RUNFLAT (BLRF) System is three-segment system designed for vehicles operating in soft terrain, such as sand and snow. When vehicles are faced with these types of terrains, tire pressure needs to be reduced to improve mobility. The BLRF system is tightly secured around the rim so that the tire remains stable regardless of the level of pressure inside the tire. This option is ideal for bolt-on flange (2 pieces), steel or alloy wheels between 16in to 27in in diameter, and is compatible with all tubeless tire sizes.
Central Tire Inflation System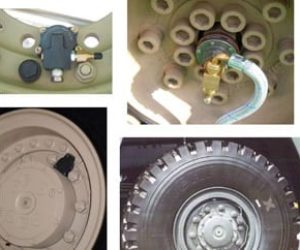 Goldtec markets a Central Tire Inflation System (CTIS) that automatically adapts tire pressure while driving, adapted to all terrain types and environments. The CTIS deflates and inflates tires depending on speed, load, and type of road, optimizing it for ideal vehicle traction, power, mobility, and passenger security. The system takes real-time measurements of tire pressure and temperature, creates customized functions and alarms, warns of the driver in case of flat tires, compensates for pressure loss in the case of small leakages, as well as isolate damaged or flat tires to prevent emptying of the air tank.
Wheels For Armored Vehicles
Goldtec offers a variety of wheels for armored vehicles which are designed and manufactured in-house to meet our clients' needs. Our selection includes the following: single piece wheels, bolted wheels, multi-species wheels, aluminum alloy wheels, and FORGED aluminum wheels. We also offer steel wheels and rims which can be customized to provide unique solutions from Ford F550s or any parallel chassis and DANA axels. Our wheel sizes range from 16in to 27in, for tubeless or tube-type usage.