Goldtec provides telescopic, mechanical, and pneumatic masts and towers systems to support a wide range of commercial and military applications.  Our telescopic mast and tower systems are fully customizable due to our manufacturer's intensive in-house design and manufacturing capabilities, allowing us to control every aspect of production and quality control.
The masts and towers systems we provide have found their place in many different applications.  Eventually, when service is needed, Goldtec supplies our well-trained technical staff.
Goldtec's Masts & Towers line of products includes:
Telescopic Masts
Lighting Systems
Sectional Masts
Trailers
Roof Trolley Systems
Military Masts
Fast Deployment Masts
Lightweight Composite Materials Masts
Goldtec markets a wide range of telescopic pneumatic masts ranging in height from 1.2 meters to over 30 meters extended height, with a range of retracted heights to suit your requirement whether it is for a vehicle or to be field mounted. Taller masts can be mounted to vehicles using one of our roof trolley systems. We also offer a line of mounting accessories and a range of fittings allowing you to safely attach your headload to the mast top either permanently or for rapid deployment.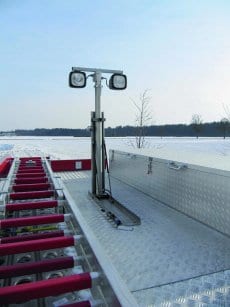 Our range of lighting masts is for flood lighting, either using portable tripod stands or mounted to a vehicle. Our range of lighting systems includes manual push up masts through to folding automatic systems with remote control pan and tilt heads. Powered from either the vehicle electrical system or from a separate generator, the range of lighting heads and arrangements is wide.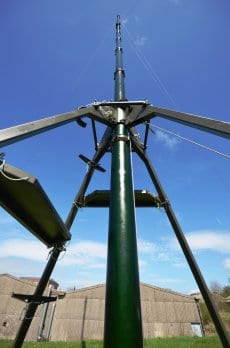 Sectional masts function differently from telescopic masts in that each tube section is of the same diameter and fits into the next section. Sectional masts are designed to be fully portable and can be carried to where they are needed in most off-road or armored vehicles. Due to their compact size, they can also be transported by helicopter, aircraft or boat when packed in individual bags.
Trailer mast systems are self-contained, fully equipped mobile mast systems. They do not require any additional equipment other than a towing vehicle which can be a suitable car or van. Fitted with a standard 50mm tow ball, towing eye or NATO towing hitch, and all the necessary road-legal lighting, a braked axle, trailer masts can be rapidly deployed where required.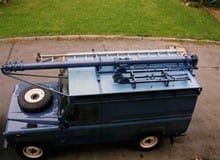 Taller masts can be difficult to mount onto a vehicle due to the longer retracted lengths involved. Our Roof Trolley Systems provide a solution that allows masts up to 30m extended height to be fitted to a wide range of vehicles. The roof trolley system carries the mast in a horizontal position in a frame on the vehicle roof. To deploy, the mast is rolled back and tilted to a vertical position and locked into place. An air hose is then attached and the mast is ready for extension.
Our masts are approved and tested to MIL-STD 810F. They are in use with many armed forces around the world. We can supply our mast systems packed in military-grade soft cases, with fully illustrated manuals and operating instructions. Our manufacturers keep a full range of spare parts available for many years and can finish the masts in a variety of colors as well as in CARC finish for military customers.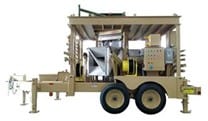 The Fast Deployment Tower is capable of lifting 900 kg to 24 meters in 5 minutes by a single operator. The Tower Solutions masts are used for fast deployment of communications systems, observation devices, weapon systems and lighting apparatus.
Lightweight, Composite Materials Masts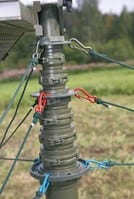 Our Telescopic masts are used extensively around the world and are proven to be fully operational after long exposure to harsh conditions including sand, dust, ice or snow. The masts are designed to meet the most demanding requirements of transportable communications, intelligence, surveillance, reconnaissance and broadcast systems, and are employed whenever there is a need to optimize system performance.