In today's battlefield soldiers depend on portable power for command, control, communications, computers, intelligence, surveillance, and reconnaissance equipment. For a typical mission, requiring average power consumption, each soldier requires to carry 5- 15 kg of military batteries. In some cases, a designated soldier carries even heavier loads for his unit. To meet the need for lighter, eco-friendly energy solutions, Goldtec integrates and provides solutions to our clients using Fuel Cells and Tactical Solar Panels to provide uninterrupted power. This can be applied to field electronic equipment such as computers, communications equipment, and observation devices for extended periods at a considerable weight advantage over existing battery solutions. This translates to as much as 65 percent of weight savings over a typical 72-hour mission.
Methanol Fuel Cell Systems
Today, more than ever, it is important to seek out alternative technologies for power generation in order to preserve our environment from pollution and depletion of resources. We deploy highly-efficient methanol fuel cell systems that are not only environmentally-friendly but also have economic advantages over traditional fossil-fuelled power generators.
We work with our suppliers to offer you the latest integrated software and remote access platforms that will dramatically improve monitoring and quality assurance capabilities. This includes the ability to start and stop energy systems, analyze usage and energy production, and solve repair issues remotely, streamlining site planning.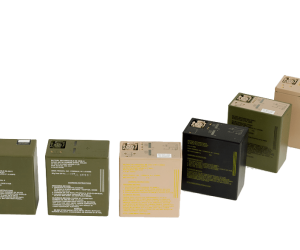 Goldtec offers a robust line of rechargeable and non-rechargeable batteries with an extended five-year shelf life. Innovation plays a key role, including versatile solutions for tactical charging, solutions for AC to DC conversion, power from solar panels and fuel cells and wind, as well as vehicle-mounted applications or in backpacks.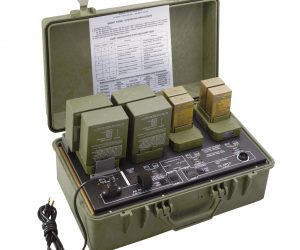 Our line of battery chargers provide solutions for AC to DC conversion, power from solar panels, fuel cells and wind turbines, as well as vehicle-mounted applications or in backpacks. Standard features include ultrasonically welded high-impact plastic cases for maximum durability, easy to follow instructions, and convenient, sealed storage for batteries that are not in use.
Portable Fuel Cell for Soldier Electronics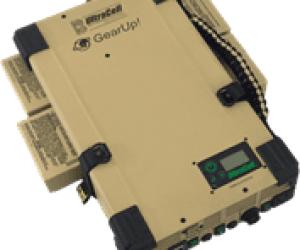 The reformed methanol fuel cell is the industry's newest ultra-compact and highly portable fuel cell. The fuel cell is designed to meet the rugged off-grid power needs of performance-demanding military users. The fuel cell is powered by ultraclean, biodegradable methanol, providing quiet, nearly emissions-free operation. The system is the size of a typical hardbound book and four times lighter and six times smaller than the nearest production portable fuel cell system in its power class.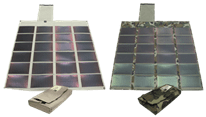 The folding, flexible Solar Panels generate power for the soldier mobile electrics and battery charging applications. Incorporating Solid State, Thin-Film, Solar Cells, Solar Panels provide a lightweight, flexible, durable, silent power solution to the forces, deployed for long durations in the field.